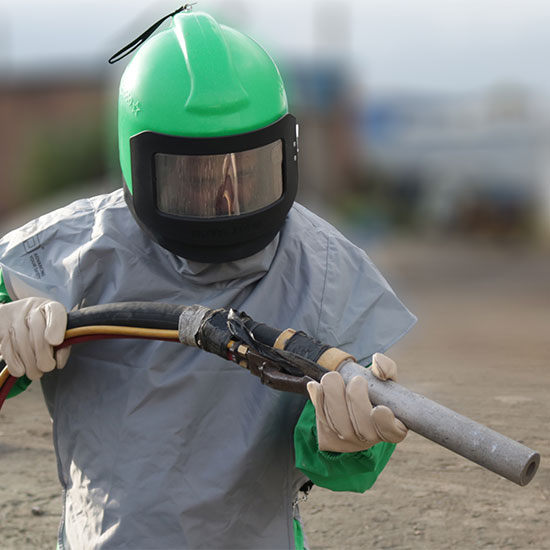 Removing dirt, paint and rust from an item is often time consuming using manual tools and equipment. The answer to this is shot blasting, this uses a blast of compressed air and a medium to remove coatings from a surface. Fibreglass and rusty metal surfaces can be delicate and can be damaged by harsh chemicals such as those used in acid dipping. Shot blasting is very forgiving to these materials and can remove contaminants without damaging the underlying surface.
Shot blasting can be used on a wide variety of surface types including brickwork, iron, steel, wood, glass, concrete, fibreglass and stone. Certain coatings require a perfectly prepared surface to ensure the correct amount of adhesion occurs. Shot blasting can provide this and is often used in the coating process.
Being cost effective and also environmentally friendly at the same time, shot blasting saves time and money in the long run. Galvanising is a method of protecting steel from the elements by applying a special coating. This process does require a strong level of adhesion for it to work. Shot blasting provides a base for this to ensure a longer lasting final result.
An alternative, often used, name for shot blasting is sand blasting. Both the commercial and domestic sectors make use of this technique and both offer a wide variety of applications. Vehicles, buildings and garden furniture are just some of the possible applications of shot blasting.
Our highly experienced team of experts are able to clean a range of objects and surfaces using a variety of blasting media. The team is on hand to discuss all of your requirements with you so the best process is chosen before the project starts. We are always on the other end of a phone call or email to answer any questions you may have and advise you with your project.
Intercity Contractors were formed in 1997, we pride ourselves on delivering a service that is committed to quality workmanship and where the customer is always looked after. This standard of service has led to our success over the years and has seen us grow into a nationally recognised provider of shot blasting services.
If you're looking for shot blasting in Derby then give us a call today and our team would be happy to help with any enquiries you may have.
What is the Difference Between Shot Blasting and Sandblasting?
Sand blasting is an outdated term but still quite common with people discussing media blasting in general. Shot blasting is used as a more up to date term and is actually the process carried out in industry today. Sand is difficult to use and comes with its own safety concerns for the user. Modern blasting media is easier to use and offers less safety issues in the long run.
Sand is readily available and used to be the go to material for abrasive blasting work due to its availability. The silica in sand is a health hazard when inhaled and creates issues for the worker using it.
Modern abrasives have high performance capabilities and outperform sand by a big margin in many different industries. Along with this, the safety benefits make them a better choice within modern industry.